At the Inn
Enjoy our Resort Amenities

Utilize our Indoor Pool, hot tub, fitness room, or co-ed sauna. Take a walk on the beach and "comb" for special shells and treasures washed up by the sea. Enjoy the soul-soothing sound of the surf from your guest room's deck or terrace.
Hip hip hooray! Our Outdoor Pool and Snack Bar are open to hotel guests. Enjoy the sand, sun and surf as well as a chaise beside the pool!
Book a treatment at The Spa At Stage Neck. 800-340-1130 x 452
We have installed TWO NEW WEBCAMS, one is currently facing Harbor Beach and the other is featuring the Atlantic Ocean from our point.
Please note that we have added the ability to book 9- or 18-hole tee times at Cape Neddick Country Club with your stay (available approximately April 18 to early November). Please inquire when making your reservations by telephone or select the desired options in the shopping cart during your online reservation.
In the Area
Please visit York Beach, second ranked New England beach as voted by CBS Boston's WBZ-TV news this month. York Beach is actually more like two beaches, separated by Cape Neddick and the famous Nubble Light house.
Events
39th Annual Fall Craft Fair August 30, Saturday ~ 9 pm to 4 pm
65 juried artists and artisans, live music by local favorites, Southern Maine Pickin' Society and Kennebunk River Band, and delicious homemade food, Rain date is Sunday, August 31. Sponsored by the School Around Us. FMI, call (207)967-3143 or visit www.schoolaroundus.org. River Green, Ocean Ave., Kennebunkport
Labor Day Weekend Extravaganza, August 30, Saturday ~ 9 am to 8 pm
Features an end of the season store sale, door prizes, a used-book sale, crafts for the kids, a bake sale, a yard sale and more. Continues through September 1. FMI, visit smac@maineaudubon.org, (207) 883-5100. Scarborough Marsh Audubon Center, Pine Point Rd., Scarborough.
Kittery Premium Outlets-Labor Day Sidewalk Sale
Aug 29, 30 & Sept 1, Friday, Saturday, Monday ~ 9 am to 9 pm
Aug 31, Sunday, 10 am to 6 pm
Enjoy the last weekend of Summer near the Maine beaches while catching great discounts on summer merchandise. Location: 375 US Route one, Kittery, ME FMI, call (207) 439-6548
Sail on the Piscataqua
by appointment on scheduled runs
Enjoy a Gundalow Cruise! Day and Sunset Cruises available. Please see the Front Desk for sailing schedules & your $10 off voucher. gundalow.org or (603) 433-9505
The York Gateway Farmers' Market
Saturdays, through October 11 ~ 9 am to 1 pm
Specialty food products, fresh vegetables, fruits, baked goods, meats, eggs, breads and homemade crafts. Held in the lot behind the Great York Region Chamber of Commerce, 1 Stonewall Lane, York. (207) 363-4422
Kittery Community Market
Wednesdays, NOW through Oct. 8 ~ 2 pm to 6 pm
Over 35 vendors offering a variety of produce, meats, cheeses, baked goods, crafts. Kitterycommunitymarket.com- Kittery Center Village at Post Office Square, Shapleigh Road, Kittery, ME
Weekly Cycling Rides
Sundays 8 am and Tuesdays at 5:30 pm
Maine Coast Cycling Club at Kennebunkport Bicycle Company, Arundel Rd., Kennebunkport. FMI www.mainecoastcycling.com.
Beach Yoga
August 31, Sunday ~ Low Tide (approx 7 to 8:15 am)
Come enjoy an athletic, all levels vinyasa yoga class with "Yoga On York" founders, Jeff and Rae Lynn, on Maine's beautiful York Harbor Beach. Breathing deeply, moving mindfully…. the soothing sounds of the ocean waves, the poignant smells of salt air, the gentle morning sun (or not), the occasional nibble of a gnat (or not), the sounds of nature, and the visit from a random dog while you are in down dog all make this beach yoga bliss. At Yoga On York's Beach Yoga classes you will be clearly guided with verbal queues to bring your attention to healthy body alignment. Time to mindfully stretch and strengthen your body, moving to the flow of your deep breathing and the sound of the ocean does wonders for health and wellness!
Music / Theater

Ricky Skaggs & Kentucky Thunder
August 29, Friday ~ 7 pm
With 14 Grammy Awards, 7 Country Music Awards, and 12 International Bluegrass Music Association Awards, this dynamic tenor from Kentucky is more than a country and bluegrass legend. By age 21, this mandolin wiz was already considered a master of one of America's most demanding art forms. Joined by his razor-sharp all-star band Kentucky Thunder, this concert promises to be a bluegrass experience unlike any other. Presented by Prescott Park Arts Festival . FMI, info@prescottpark.org or call 603-436-2848.
Concerts At Ellis ParkShort Sands Beach, 7-9 pm
• Friday, August 29 – The Marquis
• Saturday, August 30 – What's Up Doc
• Sunday, August 31 – E-Z Money
http://gatewaytomaine.org/ellis-park-concerts
New Legacy Jazz Band
August 30, Saturday ~ 6:30 pm
Wonderful large jazz and swing band. Hobbs Memorial Gazebo, Harbor Road, Wells. Free
Labor Day Concert
August 31, Sunday, 7 pm
Glenda Winkle-Morrow, Jan Stover and Kathy Haley, guest pianists Wendell Scott Purrington and Mark Thallander, guest organists Susan LaVerriere, violinist - Pastor Jeff Patnaude, tenor soloist and other artists. Ogunquit Baptist Church, 157 Shore Rd., Ogunquit. (209) 646-2160 or www.ogunquitbaptistchurch.org.
8 Track (the sounds of the 70's)
Live Theater
July 25 - August 30:
Thursdays, 7:30 pm;
Fridays and Saturdays, 8 pm;
Sundays, 2 pm
Put on your leisure suits, halter tops, and platform shoes and get ready to boogie down through 10 years of ground-breaking music! Seacoast Reparatory Theatre, 125 Bow Street, Portsmouth, NH., info@seacoastrep.org or call (603) 433-4793
Mary Poppins
July 30 to August 30
MATINEES ~ Wed/Thurs, 2:30pm; Sat, 3 pm; Sun, 2 pm
EVENINGS ~ Tues/Fri, 8 pm; Sat, 8:30 pm; Sun, 7 pm
Starring Gail Bennett as Mary Poppins! The enchanting story, unforgettable songs and breathtaking dance numbers will dazzle and delight theatre goers of all ages. (207) 646-5511 boxoffice@ogunquitplayhouse.org [Please note that as a service to our guests, we will reserve your tickets for you in advance of your stay. Please contact the front desk (extension 0) for details.]
Art

Artist Exhibit
through September 7 ~ 5 to 8 pm
"Confluence", an exhibit of pieces by Kate Doyle, Kenneth Joseph Bini and Sumner Winebaum. Three artists' works converge to celebrate the human form in a variety of mediums, including photography, oil paint and bronze. Other artists' works are featured throughout the gallery. The gallery is located at 375 Little Harbor Road in Portsmouth. For information, call 379-6560 or visit www.drift-gallery.com.

The Mid-Summer Exhibitions
through August 24 ~ 10 am to 5 pm, Tues - Sat; 1 to 5 pm, Sunday
York's George Marshall Store Gallery is featuring the work of three well-established New England artists. Wendy Turner, exhibiting a new body of large oil canvases, master ceramic artist, Paul Heroux and VT artist Mark Goodwin, who expresses his ideas through mixed media paintings. (207) 351-1083
Historic

The Museums of Old York
presents "Harbor Lights"
July 19 to August 16 (closed Tuesdays)
We are celebrating the 25th Anniversary of Old York Decorator Show Houses! "Harbor Lights" is situated on a bluff above the south bank of the York River. The house was designed by the Boston architectural firm of Chapman and built in 1906 as a summer cottage for New Hampshire Governor Frank W. Rollins. Please visit us and enjoy the sweeping views of woods and York Harbor and the grand old cottage features original classical woodwork, built-in cupboards, hardwood floors and windows framing beautiful vistas. Admission $25! (207) 363-4974 or www.oldyork.org
Museums of Old York and
World War I Exhibits


From Neutrality to Victory: York Remembers the Great War - Our new WWI exhibit is now open to the public.
Other buildings are also open.
As always, York residents can visit the Old Gaol for free!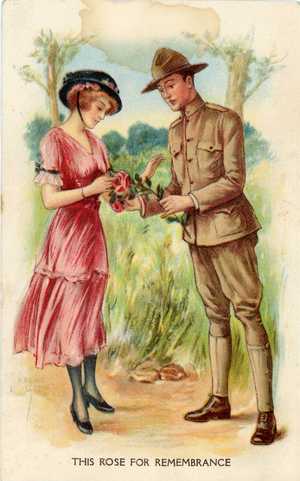 York is a town rich in history. Many of the original settlement buildings have been preserved and serve as a living museum ... a glimpse into southern Maine's past. In addition, the Museum has added a World War I exhibit.
This year marks the 100th anniversary of the beginning of the war in Europe now known as World War I. Initially, most Americans knew of the spreading devastation from Belgium to Russia as distant new events. But others, both men and women, were so moved by the suffering there that they offered to serve. Once the U.S. declared war on Germany in 1917, more people gave of themselves, with many making the ultimate sacrifice. Post card image from the Museums of Old York web site.
Ogunquit Fire Company Fire Museum
open 24 hours a day
View the steam pumper and other fire memorabilia . Firemen's Park, corner of Shore Rd. and Cottage St., Ogunquit.
background image courtesy of ©PerlmutterPhotography